Year 4
MRS NATALIE COURTNEY/ MRS ISLA BUCKLE AND MISS KELLY HOPWOOD
In Maths children will be assessed against criteria based upon age related expectations. Please find below the age related expectations for a child in Year 4. For more information click here.
Year 4 Blog - Summer Term 2022
Images of our activities are available to view in our School Gallery. Click here to see more...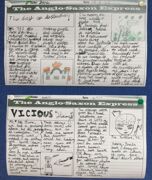 We have been working hard in history learning about Vikings, here are our newspaper reports about the Viking attack at Lindisfarne monastery.
We have also made our own Viking long boats - our classrooms were invaded!