Reception
50 Things to do Before You're 5
50 Things is an exciting initiative that supports children's learning at home. It is inspired by parents and carers with each activity developed by Early Years experts and language specialists to create a fabulous resource for families.
More information can be found here 50-things-introduction-letter-pdf.pdf
Mark Making and Literacy in Reception
Literacy is taught discretely in daily lessons in addition to elements integrated throughout the Reception environment, inside and outside. As soon as the children join us in September, a focus is placed on letter formation (see handwriting phrases in the phonics section of this page), continuing to develop listening and communication skills. Children begin doing whole class phonics learning in the first half term, after which, they are streamed via ability.
To see more photos of our mark making and Literacy, click here and select the Reception gallery.
Maths in Reception
Just like Literacy, Maths is taught in discrete lessons as well as throughout the Reception environment, both indoors and out.
To see more images of Maths in Reception click here and select the Reception button.
Being Creative in Reception
In Reception we love to explore our creativity through the mark making table, the craft area and use the painting easels, as well as imaginary and role play.
Children are encouraged to independently plan ideas, use a range of resources and adapt their work to achieve their desired outcomes. We love to see how children take the skills we teach and come up with their own creative ideas! See more images here.
Being Outdoors
As part of our Reception curriculum, we love to encourage the children to explore the outdoors! There are many benefits of being outdoors including: developing gross motor skills, communication skills, greater self-awareness, sparking interest in new topics, develop decision-making skills, as well as many other benefits.
Take a look in the gallery (Reception) for more photos of us exploring the outdoors!
Reception Blog - Summer term 2023
Welcome to the summer term!
This half term in Reception, the children have been learning about Spring. The children have been observing seasonal changes such as green leaves and blossoms returning to the trees and spring flowers starting to grow. They also noticed that it is now lighter and brighter outside. The children all created their own observational painting of a daffodil and compared the 4 different seasons.
This learning led on to looking at different types of weather. The children recorded their own weather reports and made their own weather wheels, which they use to show the types of weather they had observed outside.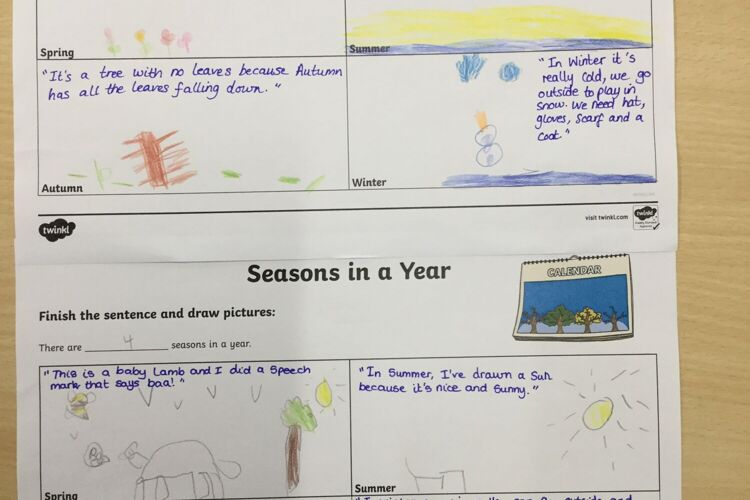 Reception Blog - Spring Term 2023
Welcome to our Reception Blog! Click here to see our photos in the gallery.
Have a look on Tapestry to see what your child is learning about.
Reception blog - Autumn term 2022
Welcome to the Reception Autumn term blog.
Have a look on Tapestry to see what your child is learning about.
Reception Blog Autumn term 2023
Welcome to the Reception blog for Autumn term 2023!